Nerve regeneration has been also proved to be the case after administration of palmitoylethanolamide, e.g.:
Nerve regeneration in neuropathic pain.
Kopsky DJ, Hesselink JM.
Pain Med. 2010 Oct;11(10):1576. doi: 10.1111/j.1526-4637.2010.00947.x. Epub 2010 Sep 7.
Molecular evidence for the involvement of PPAR-δ and PPAR-γ in anti-inflammatory and neuroprotective activities of palmitoylethanolamide after spinal cord trauma.
Paterniti I, Impellizzeri D, Crupi R, Morabito R, Campolo M, Esposito E, Cuzzocrea S.
J Neuroinflammation. 2013 Feb 1;10:20. doi: 10.1186/1742-2094-10-20.
Neurology Update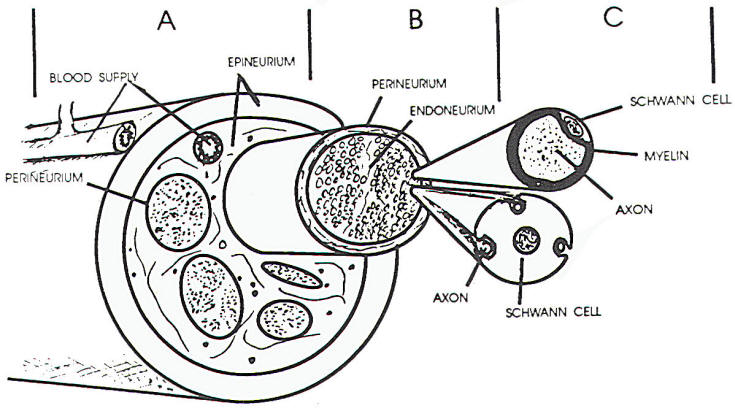 Nerves are complicated structures, made of many axons (the actual connections or wires) some surrounded by a layer of myelin shealth (insulation), all bundled together with connective tissue into a giant cable.
Nerve injuries come in different varieties, depending on the mechanism and severity of the trauma:
The mildest injury is neurapraxia, which is a short area of segmental demyelination.  Because the underlying axon is left intact, recovery can occur within days to week by simple remyelination.
The more severe injuries axonotomesis and neurotmesis involve axonal injury.  Once the axon is injured, the whole segment distal to the injury undergoes a pre-programmed process of degeneration called Wallerian degeneration:
Even if the nerve injury is repaired, or gets better on it's own, the axon has to grow back all the way from the injury site to the end of the nerve at the muscle before functional recovery can occur.
View original post 199 more words